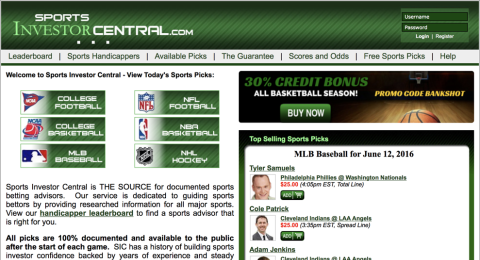 Community Reviews
Post Review
Read Reviews (1)
There are 1 positive review and no complaints for Sports Investor Central.
Sports Investor Central Background / Wiki
Sports Investor Central is THE SOURCE for documented sports betting advisors. Our service is dedicated to guiding sports bettors by providing researched information for all major sports. All picks are 100% documented and available to the public after the start of each game. SIC has a history of building sports investor confidence backed by years of experience and steady growth. Guaranteed winners when you purchase picks with SIC insurance! Here at SIC, you have the option to back your sports picks with SIC pick insurance. The SIC Guarantee provides members with the option to insure SIC sports picks to receive credit back for any selections that do not show a profit. Sports Investor Central will credit your member's account for the full amount so you can use these site credits to order future sports picks at no cost. With this guarantee backing our sports handicapping packages, you have nothing to lose and only end up paying for winning sports picks. You can now order with confidence knowing that your sports handicapping picks and results are guaranteed. Sports Investor Central features a roster of 35+ professional Sports Investors during any given season. Each Sports Investor is professionally trained and offers expert sports advice to help you with all major sports including NFL, College Football picks, NBA, College Basketball Picks, MLB and NHL.
Sports handicappers listed by sportsinvestorcentral.com
| Name | Profitable Sport(s) | 30 Day | Season |
| --- | --- | --- | --- |
| Adam Jenkins | | 58-27 (68%), +$16,585 | 455-268 (63%), +$87,830 |
| Cameron Owens | | 79-46 (63%), +$14,740 | 988-674 (59%), +$126,640 |
| William Jacobs | | 87-59 (60%), +$12,350 | 1,054-754 (58%), +$116,700 |
| Cole Patrick | | 43-21 (67%), +$10,765 | 474-281 (63%), +$84,950 |
| Pete Mac | | 84-57 (60%), +$10,730 | 1,047-859 (55%), +$52,525 |
| Pat Nuke | | 65-41 (61%), +$10,235 | 517-348 (60%), +$67,330 |
| Jimmy Meyer | | 42-22 (66%), +$10,200 | 483-295 (62%), +$84,535 |
| Tyler Samuels | | 88-64 (58%), +$9,930 | 1,151-897 (56%), +$88,320 |
| Skip Breaze | | 85-60 (59%), +$9,875 | 1,139-819 (58%), +$126,050 |
| Bryan Bowman | | 53-34 (61%), +$9,060 | 465-288 (62%), +$78,955 |
| Taylor Gold | | 64-47 (58%), +$7,645 | 918-629 (59%), +$122,595 |
| Kenny York | | 55-39 (59%), +$7,270 | 518-342 (60%), +$75,670 |
| Riley Peterson | | 72-54 (57%), +$6,765 | 961-682 (58%), +$112,935 |
| Jerry Goslin | | 40-25 (62%), +$6,515 | 455-272 (63%), +$81,840 |
| Bobby Husbands | | 43-30 (59%), +$6,375 | 447-284 (61%), +$71,705 |
| Joe Rossy | | 35-22 (61%), +$6,190 | 489-343 (59%), +$59,180 |
| Bret Bryan | | 32-19 (63%), +$5,595 | 45-30 (60%), +$6,035 |
| Pepper Shannon | | 44-31 (59%), +$4,905 | 65-41 (61%), +$9,905 |
| Ray Lucas | | 40-29 (58%), +$4,090 | 56-41 (58%), +$5,515 |
| Walter Lee | | 42-31 (58%), +$3,895 | 59-49 (55%), +$2,460 |
| Dick Liston Jr. | | 65-54 (55%), +$3,175 | 562-344 (62%), +$97,050 |
| Timmy Klein | | 41-32 (56%), +$2,855 | 54-44 (55%), +$2,755 |
| James Landas | | 79-66 (54%), +$2,540 | 1,032-790 (57%), +$82,190 |
| Aaron Fuller | | 42-36 (54%), +$1,300 | 60-47 (56%), +$4,235 |
| Mikhail Lebel | | 84-73 (54%), +$1,175 | 1,161-885 (57%), +$96,640 |
| Joel Rockman | | 39-31 (56%), +$1,155 | 667-472 (59%), +$76,725 |
| Jared Alston | | 41-39 (51%), +$705 | 713-483 (60%), +$95,410 |
| "South Side" Slim Landry | | 0-0 (0%), +$0 | 567-389 (59%), +$70,680 |
| Bob Greenfield | | 0-0 (0%), +$0 | 250-192 (57%), +$18,955 |
| John Hayden | | 0-0 (0%), +$0 | 526-393 (57%), +$47,980 |
| John R. Block | | 0-0 (0%), +$0 | 556-387 (59%), +$65,630 |
| Phillip Pyle | | 0-0 (0%), +$0 | 518-387 (57%), +$46,665 |
| Robin Lyons | | 0-0 (0%), +$0 | 252-184 (58%), +$24,460 |
| Ryland Breed | | 0-0 (0%), +$0 | 545-380 (59%), +$64,485 |
| Scot Romas | | 0-0 (0%), +$0 | 0-0 (0%), +$0 |
| Storm Lewis | | 0-0 (0%), +$0 | 386-275 (58%), +$43,610 |
| Tom Pit | | 0-0 (0%), +$0 | 0-0 (0%), +$0 |
| Tony Dickson | | 0-0 (0%), +$0 | 644-419 (61%), +$91,690 |
| Steve O'Bannon | | 36-33 (52%), -$165 | 57-45 (56%), +$3,725 |
| Dave McGreggor | | 36-33 (52%), -$190 | 54-49 (52%), +$10 |
| Chris Murphy | | 74-70 (51%), -$375 | 950-686 (58%), +$102,490 |
| Martin Agnes | | 32-32 (50%), -$685 | 441-278 (61%), +$72,245 |
| Ralph Learner | | 31-31 (50%), -$1,465 | 56-45 (55%), +$3,335 |
| Noah Daniels | | 31-31 (50%), -$1,625 | 52-41 (56%), +$3,375 |
| Dylan Miles | | 34-34 (50%), -$1,765 | 55-44 (56%), +$3,255 |
| Kevin Fitch | | 37-38 (49%), -$2,405 | 56-46 (55%), +$2,695 |
| Jack London | | 32-34 (48%), -$2,635 | 54-41 (57%), +$4,540 |
| Ethan Alexander | | 63-65 (49%), -$3,430 | 974-712 (58%), +$100,150 |
| Wyatt Turner | | 20-31 (39%), -$7,045 | 29-34 (46%), -$4,195 |
| Brandon Banks | | 26-37 (41%), -$7,340 | 44-50 (47%), -$5,540 |