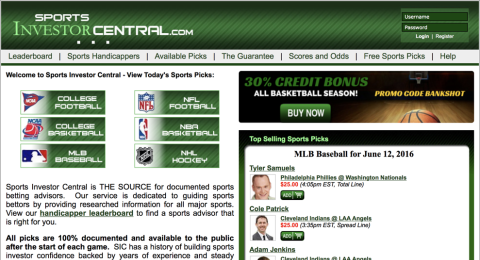 Pete Mac verified since 8/28/2008
Pete Mac has been involved in sports handicapping since the late 1990s. Although Pete grew up in New York he is neither a fan of the Yankees or Mets and is a fan of any team he can find sufficient line value. "I'm not a New York sports fan and quite frankly I'm not a die hard fan of any sports team. My passion lies within spotting value in the lines released by Vegas. If I can find value in the Cleveland Browns and win, I have done my job. I truly feel that having an unbiased outlook allows me to utilize my handicapping methodology with a clear vision". Pete is one of the most experienced sports handicappers on SIC and he looks forward to working with the other members to join forces with hopes of making SIC the top choice for our clients.
Sport
Yesterday
7 Day
30 Day
Season
All
3-1 (75%), +$900
18-15 (55%), +$750
63-50 (56%), +$3,720
773-577 (57%), +$69,055
MLB
3-1 (75%), +$900
18-15 (55%), +$750
63-50 (56%), +$3,720
188-132 (59%), +$20,555
NCAAF
82-70 (54%), +$2,525
NBA
240-206 (54%), +$6,960
NCAAB
182-117 (61%), +$26,700
NHL
81-52 (61%), +$12,315
You might also like to check out other handicappers from Sports Investor Central Adam Jenkins, Bob Greenfield, or Cameron Owens.