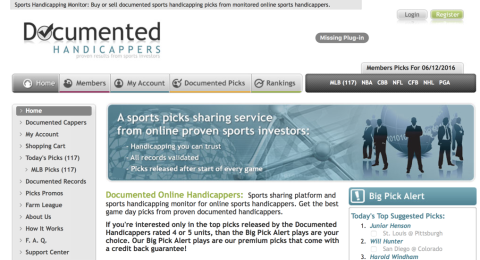 Community Reviews
Post Review
Read Reviews (1)
There are 1 positive review and no complaints for Documented Handicappers.
Documented Handicappers Background / Wiki
Documented Handicappers is a sports sharing platform and sports handicapping monitor for online sports handicappers. Get the best game day picks from proven Documented Handicappers. A new concept in sports handicapping monitors. The documented handicappers exchange platform allows online sports handicappers the ability to buy or sell their sports research. All records are monitored and all sports handicapping picks are released after the start of each game. Documented Handicappers offers information & records about each registered Documented Handicapper, 100% monitored sports handicapping services and the ability to buy or sell your sports advice to the community. Documented Handicappers offers a unique Big Pick Alert play that provides members with the top rated picks of the day and always a 4 or 5 unit prediction. The Big Pick Alert play is always a top rated play and always a credit back guarantee. Team up with the sports betting top handicappers and join the top online sports handicapping monitor today for your winning picks this season. Purchase member picks or earn commission from selling your sports advice to other DH community members.
Sports handicappers listed by documentedhandicappers.com
| Name | Profitable Sport(s) | 30 Day | Season |
| --- | --- | --- | --- |
| Nate McMartin | | 157-88 (64%), +$31,880 | 625-425 (60%), +$78,855 |
| Angelo Benedetta | | 126-69 (65%), +$24,905 | 233-158 (60%), +$29,425 |
| Micky "Bullzeye" Ferris | | 110-57 (66%), +$23,520 | 551-389 (59%), +$64,630 |
| Donny Pearson | | 111-64 (63%), +$20,335 | 547-381 (59%), +$63,205 |
| Harv Rubenstein | | 77-35 (69%), +$19,170 | 85-47 (64%), +$16,615 |
| Ray Harve | | 111-66 (63%), +$19,170 | 557-405 (58%), +$56,305 |
| Mark Ansil | | 70-32 (69%), +$17,380 | 530-355 (60%), +$74,835 |
| Daniel Brown | | 116-74 (61%), +$17,215 | 569-413 (58%), +$56,035 |
| Kyle Gold | | 82-46 (64%), +$15,915 | 99-52 (66%), +$21,070 |
| Jimmy Eastman | | 103-65 (61%), +$15,790 | 571-393 (59%), +$73,480 |
| Luca Freaman | | 61-28 (69%), +$14,995 | 152-105 (59%), +$18,075 |
| Bryan Fillmore | | 71-37 (66%), +$14,985 | 86-45 (66%), +$18,080 |
| Jim McDonald | | 73-43 (63%), +$12,820 | 84-54 (61%), +$12,240 |
| Brock Lloyd | | 57-29 (66%), +$12,535 | 167-100 (63%), +$28,695 |
| Michael Kimmel | | 59-31 (66%), +$12,505 | 142-112 (56%), +$9,410 |
| Richie Law | | 81-52 (61%), +$11,865 | 499-375 (57%), +$47,730 |
| Jacob Smith | | 72-48 (60%), +$11,595 | 134-104 (56%), +$13,120 |
| Nick Parson | | 41-17 (71%), +$11,050 | 119-85 (58%), +$12,585 |
| Dave Little | | 44-20 (69%), +$11,010 | 138-85 (62%), +$22,190 |
| Doctor Pauls | | 87-61 (59%), +$9,690 | 750-531 (59%), +$89,825 |
| Brad MacKenzie | | 72-48 (60%), +$9,550 | 80-59 (58%), +$7,545 |
| Nathan Skinner | | 41-21 (66%), +$8,995 | 123-81 (60%), +$16,970 |
| Scooter Lowell | | 47-29 (62%), +$8,840 | 511-303 (63%), +$98,150 |
| "Action" Jackson Avry | | 46-26 (64%), +$8,740 | 138-85 (62%), +$22,430 |
| Max "Chief" Stuzman | | 61-40 (60%), +$8,530 | 61-40 (60%), +$8,530 |
| Harold Windham | | 62-41 (60%), +$8,515 | 593-355 (63%), +$106,390 |
| Tess Goldman | | 68-46 (60%), +$8,475 | 83-52 (61%), +$12,705 |
| Leland Dobson | | 52-32 (62%), +$8,445 | 147-101 (59%), +$18,140 |
| Jeremy Redmond | | 97-73 (57%), +$8,350 | 581-376 (61%), +$91,390 |
| Glen Rockford | | 66-45 (59%), +$8,175 | 616-409 (60%), +$86,665 |
| Jon McFadden | | 66-45 (59%), +$8,060 | 81-53 (60%), +$11,180 |
| Sonny "Shotgun" Morane | | 42-24 (64%), +$7,910 | 131-89 (60%), +$16,715 |
| Toby Blair | | 38-22 (63%), +$6,935 | 126-82 (61%), +$17,855 |
| Makana | | 42-26 (62%), +$6,735 | 136-92 (60%), +$17,530 |
| Kelvin Baker | | 38-23 (62%), +$6,400 | 610-451 (57%), +$59,890 |
| Mason Porter | | 50-34 (60%), +$6,270 | 143-99 (59%), +$17,110 |
| Carson Kelly | | 39-24 (62%), +$6,170 | 115-87 (57%), +$9,465 |
| T.D. | | 39-24 (62%), +$6,170 | 133-94 (59%), +$14,600 |
| Aiden Necholas | | 39-25 (61%), +$5,840 | 100-71 (58%), +$10,985 |
| Trevor J. Bass | | 135-114 (54%), +$5,435 | 651-460 (59%), +$77,565 |
| William Palmer | | 26-14 (65%), +$5,395 | 74-58 (56%), +$5,230 |
| Damon Puller | | 28-16 (64%), +$5,135 | 40-25 (62%), +$6,180 |
| Jeffrey Johnson | | 17-7 (71%), +$4,680 | 49-24 (67%), +$11,310 |
| Chris Bale | | 95-77 (55%), +$4,590 | 226-164 (58%), +$20,930 |
| Ted Stone | | 63-51 (55%), +$3,370 | 76-58 (57%), +$6,045 |
| Tommy Hightower | | 13-6 (68%), +$3,175 | 55-30 (65%), +$11,010 |
| Mathew Balance | | 19-12 (61%), +$2,985 | 66-45 (59%), +$8,375 |
| Whitney Hicks | | 62-51 (55%), +$2,945 | 73-60 (55%), +$3,540 |
| The Swami | | 48-40 (55%), +$2,070 | 531-320 (62%), +$92,370 |
| Denny Helton | | 13-9 (59%), +$1,580 | 599-404 (60%), +$87,030 |
| Angel Price | | 26-22 (54%), +$875 | 37-32 (54%), +$890 |
| Adrian Conners | | 0-0 (0%), +$0 | 0-0 (0%), +$0 |
| Alfonso "Alfy" Bruno | | 0-0 (0%), +$0 | 401-294 (58%), +$39,705 |
| Curtis Sydney | | 0-0 (0%), +$0 | 449-315 (59%), +$55,240 |
| Edward Webb | | 0-0 (0%), +$0 | 400-296 (57%), +$40,290 |
| Henry Williams | | 0-0 (0%), +$0 | 428-278 (61%), +$64,375 |
| Jack Jeffries | | 0-0 (0%), +$0 | 404-261 (61%), +$61,570 |
| Jesse Jones | | 0-0 (0%), +$0 | 430-321 (57%), +$41,545 |
| Jim Paulson | | 0-0 (0%), +$0 | 406-277 (59%), +$52,390 |
| Kiki Lopez | | 0-0 (0%), +$0 | 0-0 (0%), +$0 |
| Kristoff Adomes | | 0-0 (0%), +$0 | 0-0 (0%), +$0 |
| Lee Brayden | | 0-0 (0%), +$0 | 395-279 (59%), +$45,320 |
| Michael Molina | | 0-0 (0%), +$0 | 408-283 (59%), +$49,185 |
| Mike Ryan | | 0-0 (0%), +$0 | 455-344 (57%), +$40,525 |
| Patrick Peters | | 0-0 (0%), +$0 | 402-309 (57%), +$35,835 |
| Val Wagner | | 0-0 (0%), +$0 | 406-276 (60%), +$52,515 |
| Vince Clemons | | 0-0 (0%), +$0 | 408-319 (56%), +$29,920 |
| Will Hunter | | 0-0 (0%), +$0 | 392-342 (53%), +$6,860 |
| Zack Sanders | | 0-0 (0%), +$0 | 411-281 (59%), +$55,065 |
| Junior Henson | | 27-26 (51%), -$895 | 543-343 (61%), +$87,285 |
| Sal Limonti | | 63-60 (51%), -$1,525 | 78-67 (54%), +$2,090 |
| RC Blevins | | 77-76 (50%), -$2,915 | 580-392 (60%), +$78,490 |
| Scott Allen Stanley | | 40-43 (48%), -$3,820 | 712-485 (59%), +$94,530 |
| Alex "Jedi" Knight | | 95-94 (50%), -$3,985 | 548-408 (57%), +$52,060 |