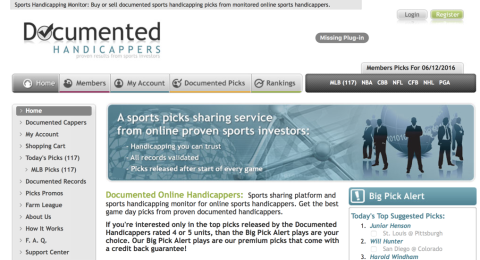 Scooter Lowell verified since 4/5/2015
Intelligent investors never work alone and to be the best you must surround yourself with the best. Documented Handicappers is one of the top sports handicapping platforms providing documented picks for people around the world and we have a staff full of sports betting experts. My goal is consistency and to be consistent throughout the long MLB season and NHL season you have to keep your emotions in check. Never get too high from a win and never get low after a loss.
Sport
Yesterday
7 Day
30 Day
Season
All
10-1 (0%), +$4,600
24-11 (0%), +$6,225
73-45 (0%), +$12,405
MLB
10-1 (0%), +$4,600
24-11 (0%), +$6,225
73-45 (0%), +$12,405
You might also like to check out other handicappers from Documented Handicappers Jon McFadden, Lee Brayden, or Sal Limonti.