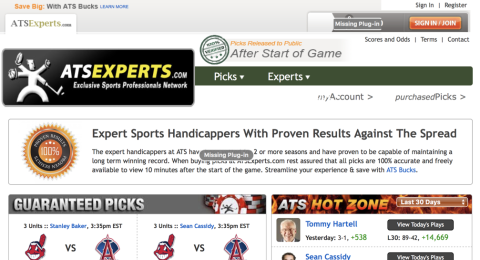 Community Reviews
Post Review
Read Reviews (0)
There are no complaints / negative reviews for ATS Experts.
ATS Experts Background / Wiki
Whether it is the latest odds or current scores, at ATS Bets you can read and find a wealth of sports information. With our detailed records you not only can see the record of your favorite ATS Expert, you can find every prediction they have made as an ATS Expert. While other services only brag about winning, ATS Experts proves it with our detailed records. What makes ATS Experts a unique sports handicapping service? We offer guaranteed sports picks determined by our proprietary Hit Rate or Accuracy Estimate for each guaranteed prediction. AE is an "Accuracy Estimate" based on historic picks performance of each ATS Expert. The Accuracy Estimate is a mathematically provided statistic that "Handicaps the Handicappers". The AE is an easy to follow review of the historic picks made by a handicapper and calculates the potential win/loss based on their historic results of Experts specific teams. Some Experts follow specific teams and/or conferences and the AE is a terrific tool to help members find the best handicappers for specific games. The higher the Hit Rate % the higher the Expert's performance. ATSExperts.com has been an industry leader since 2006 with a roster of experienced sports tipsters. From free sports picks to industry leading ATS Bucks Bonuses, ATS Experts provides value to all sports bettors.
Sports handicappers listed by atsexperts.com
| Name | Profitable Sport(s) | 30 Day | Season |
| --- | --- | --- | --- |
| Mike Dolan | | 76-42 (64%), +$17,720 | 685-517 (57%), +$64,755 |
| Scott Riley | | 74-49 (60%), +$11,565 | 950-704 (57%), +$92,380 |
| Carmine Luzetti | | 71-45 (61%), +$11,375 | 880-676 (57%), +$67,970 |
| Stanley Baker | | 58-35 (62%), +$10,605 | 430-355 (55%), +$17,405 |
| Hank Downey | | 70-47 (60%), +$9,530 | 946-709 (57%), +$86,175 |
| Brandon Donelly | | 67-48 (58%), +$8,100 | 1,051-830 (56%), +$68,155 |
| Sean Cassidy | | 68-51 (57%), +$6,025 | 478-361 (57%), +$43,090 |
| Calvin Adams | | 34-21 (62%), +$5,390 | 51-36 (59%), +$5,660 |
| Brian Quincy | | 66-50 (57%), +$5,040 | 885-670 (57%), +$76,265 |
| Frank Delgotto | | 61-48 (56%), +$4,910 | 909-679 (57%), +$82,760 |
| Elon Koebler | | 38-27 (58%), +$4,095 | 54-35 (61%), +$7,770 |
| Chris Coleman | | 28-19 (60%), +$4,025 | 437-258 (63%), +$78,980 |
| Dave Alexander | | 47-38 (55%), +$3,950 | 561-409 (58%), +$59,480 |
| Kelly Steward | | 29-22 (57%), +$2,955 | 44-37 (54%), +$2,255 |
| Jacob Martin | | 0-0 (0%), +$0 | 484-361 (57%), +$50,855 |
| James Murphy | | 0-0 (0%), +$0 | 505-366 (58%), +$51,940 |
| Jason Barett | | 0-0 (0%), +$0 | 0-0 (0%), +$0 |
| ATS True Consensus | | 41-38 (52%), -$450 | 376-282 (57%), +$35,025 |
| Julian Dread | | 33-31 (52%), -$685 | 51-46 (53%), -$390 |
| Tommy Hartell | | 52-52 (50%), -$1,065 | 684-480 (59%), +$77,950 |
| Andy Myer | | 26-30 (46%), -$3,590 | 42-42 (50%), -$2,170 |
| Lyle Clark | | 52-60 (46%), -$4,275 | 1,058-834 (56%), +$80,390 |