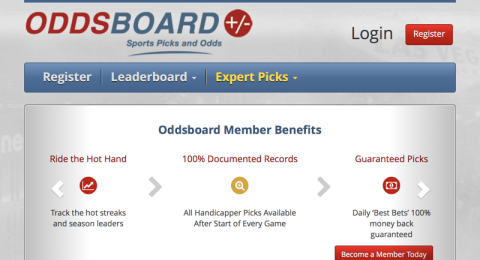 Community Reviews
Post Review
Read Reviews (0)
There are no complaints / negative reviews for Oddsboard.
Oddsboard Background / Wiki
Created in January 2006 by a group of dedicated sports professionals, Oddsboard has quickly become the industry leader in sports gaming information and prognostication. At Oddsboard, you are not only provided the best and most cutting edge sports services all inside one simple site, you also receive everything backed by the reputation and respect that our industry clients have come and deserve to expect. Oddsboard.com has been recognized as a top online resource for expert sports picks and sports betting information since 2006. Our staff of OB Expert sports handicappers provide daily winning sports betting predictions for all major sporting events including MLB, NFL, NCAAF, NBA and NCAAB. Oddsboard was designed to provide our member base with researched insight backed by a proven track record and verified sports betting picks history. When you join our team of professionals at Oddsboard.com you partner with a network of sports handicappers connecting you to information that puts the odds on your side. From live sports odds to documented sports picks, Oddsboard.com is here to guide you in your sports betting investment. The developers of Oddsboard understand that today's sports gaming entertainment industry consists of thousands of gaming establishments most of which are viewed with skeptical eyes. With the support of industry partners and many leading professionals, the sports gambler finally has a site that he or she can trust and is designed with their benefit in mind. Oddsboard provides a cohesive business strategy designed for the mutual success of the Oddsboard visitors as well as the gaming establishments and handicappers promoted at Oddsboard.com.
Sports handicappers listed by oddsboard.com
| Name | Profitable Sport(s) | 30 Day | Season |
| --- | --- | --- | --- |
| Patrick Adams | | 107-56 (66%), +$18,290 | 573-382 (60%), +$69,345 |
| Jimmy Lawrence | | 96-63 (60%), +$12,885 | 583-399 (59%), +$70,785 |
| Kurt T. Poway | | 90-61 (60%), +$11,420 | 539-374 (59%), +$62,910 |
| Tim Harris | | 81-61 (57%), +$7,725 | 542-380 (59%), +$55,695 |
| Mike Davis | | 85-66 (56%), +$5,035 | 535-355 (60%), +$71,805 |
| Christopher Rockfeld | | 88-74 (54%), +$4,655 | 527-348 (60%), +$71,780 |
| Greg Michaels | | 89-75 (54%), +$1,790 | 505-361 (58%), +$50,130 |
| Joey Bergeron | | 82-73 (53%), +$830 | 696-486 (59%), +$77,725 |
| OB Consensus Picks | | 43-49 (47%), -$5,470 | 284-199 (59%), +$35,250 |