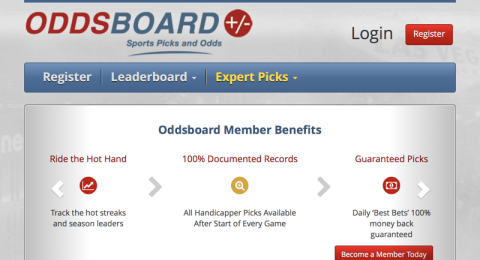 Patrick Adams verified since 12/9/2008
Based out of Phoenix, Arizona, Patrick Adams is a former freelance sportswriter that has been a part of the sports reporting industry for over twenty years. Pat has combined his love and in-depth knowledge of sports into a lucrative career providing sports picks for his members. As a former free-lance sports writer, Pat was often asked to appear on Sports Edge hosted by Dan the Man. Patrick was an orignal member of Oddsboard beginning in 2006. Patrick has been handicapping major sports for over 25 years. "Like most handicappers, I felt that my research with sports reporting went hand in hand with sports betting. I take pride in my research and preparation for each selection I release to my clients. The substance and detail of my research still remains a key component to my pick selection. I'm a firm believer that any professional sports bettor that makes a living from betting sports does not use just one system, or any for that matter. Most old school professionals rely on their research, notes and experience".
Sport
Yesterday
7 Day
30 Day
Season
All
0-2 (0%), -$1,150
11-6 (65%), +$2,200
32-19 (63%), +$5,605
437-312 (58%), +$56,365
MLB
0-1 (0%), -$600
11-5 (69%), +$2,750
32-18 (64%), +$6,155
156-100 (61%), +$29,335
NFL
0-1 (0%), -$550
0-1 (0%), -$550
0-1 (0%), -$550
0-1 (0%), -$550
NCAAF
65-54 (55%), +$2,830
NBA
60-60 (50%), +$1,100
NCAAB
156-97 (62%), +$23,650
You might also like to check out other handicappers from Oddsboard Greg Michaels, Kurt T. Poway, or OB Consensus Picks.