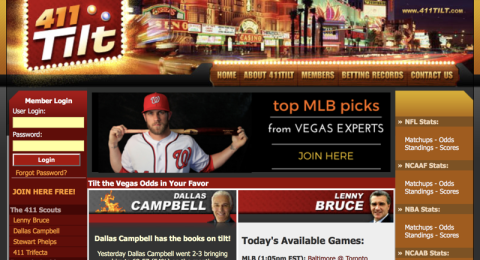 Stewart Phelps verified since 11/21/2008
For almost a decade Stewart Phelps has been successfully handicapping sporting events. Stewart has taken his talents all over the world from Canada to Europe and now to Las Vegas, NV. Growing up as the son of a farmer, Stewart has learned the value of honor and hard work. Stewart started working fresh out of college as a commercial realtor where he developed farm land into pricey office and retail space in California's Silicon Valley. The experience working in real estate development helped Stewart acquire a keen business sense and attention to detail. Stewart took his successful development business to Vegas to parlay his experience into the booming urban sprawl of Las Vegas in the mid 80's. With a love for wagering on sports, and understanding the importance of professional consultation, Stewart took on the services of Lenny Bruce. Their consultation partnership evolved into a friendship and eventually an apprenticeship where Lenny helped Stewart transcend his business skills into one of today's hottest sports handicappers. Stewart Phelps promise to all his clients is to provide them with the most researched and educated sports betting selections that will put the vegas odds on your side. View all of Stewart Phelps vegas picks for insight into his past performance.
Sport
Yesterday
7 Day
30 Day
Season
All
2-2 (50%), -$225
11-13 (46%), -$1,735
59-61 (49%), -$4,460
664-543 (55%), +$37,230
MLB
2-2 (50%), -$225
11-13 (46%), -$1,735
59-61 (49%), -$4,460
193-187 (51%), -$2,870
NFL
49-44 (53%), +$645
NCAAF
68-50 (58%), +$6,535
NBA
156-126 (55%), +$8,595
NCAAB
198-136 (59%), +$24,325
You might also like to check out other handicappers from 411Tilt 411 Trifecta, Dallas Campbell, or Lenny Bruce.