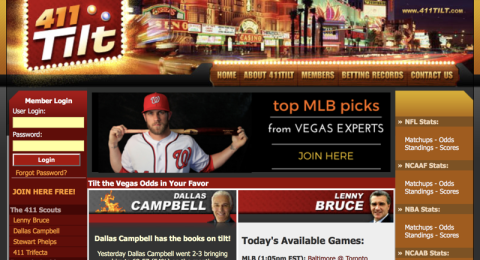 Community Reviews
Post Review
Read Reviews (0)
There are no complaints / negative reviews for 411Tilt.
411Tilt Background / Wiki
Lenny Bruce has teamed up with A-listers Dallas Campbell and Stewart Phelps to provide professional handicapping to the online world with results you expect from fee sports consultants. Vegas can be beat, and Lenny Bruce has continued to prove it year after year and now you too can team up with Lenny and start betting with confidence. ALL GAMES RELEASED AFTER START and tracked by the national sports monitor. The 411 handicappers have established a reputation of honesty, integrity and reliability that has been time tested. Only established roots and experience can provide the kind of consistency offered at 411Tilt.com. We welcome all new clients to our online service and look forward to providing you with a new brand of sports handicapping. In addition to our documented records, all sports picks from the 411 Scouts are released immediately after the start of each game! 411Tilt provides sports betting advice that includes MLB picks, NFL picks, NBA picks, college basketball picks and college football picks. Please visit the sports betting records archive for all records history for all of the 411 Scouts.
Sports handicappers listed by 411tilt.com
| Name | Profitable Sport(s) | 30 Day | Season |
| --- | --- | --- | --- |
| 411 Trifecta | | 75-44 (63%), +$13,070 | 414-243 (63%), +$77,525 |
| Dallas Campbell | | 96-70 (58%), +$9,670 | 524-374 (58%), +$59,695 |
| Lenny Bruce | | 86-64 (57%), +$7,610 | 518-356 (59%), +$62,760 |
| Stewart Phelps | | 85-76 (53%), +$540 | 504-362 (58%), +$57,725 |