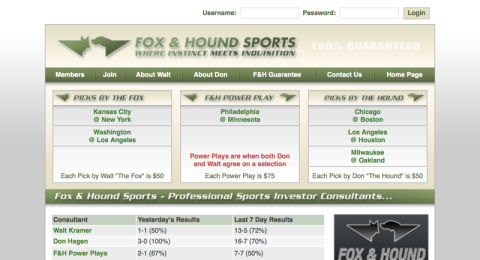 Community Reviews
Post Review
Read Reviews (0)
There are no complaints / negative reviews for Fox & Hound Sports.
Fox & Hound Sports Background / Wiki
Fox & Hound Sports is a professional sports handicapping service created and operated by two of the top sports handicappers online. The Fox & Hound team are consultants for sports investors all over the world providing researched and documented sports picks. Our professional sports handicapping team is anchored by Don "The Hound" Hagen and Walt "The Fox" Kramer. Fox & Hound Sports provides services for clients interested in NFL Picks, College Football Picks, NBA Picks, College Basketball and MLB Picks. Our staff of trained professionals gives you an edge with your sports betting investments. About Don "The Hound" Hagen: Don is a grizzled veteran to sports gambling and handicapping world. He broke into the professional sports handicapping ranks in the early 1980's where he earned his nickname as "The Hound." Don inherited the name "The Hound" from Gary for his raw handicapping instincts and ability to see value in lines that Vegas set to trick the public. Don is a guy who believes that gambling can be a profitable profession if you have the instincts and patience to beat the books. He is quoted as saying "Beating the bookies is as much about not betting as it is betting." In other words, find only the top plays on each card and play that action. Do not play the games that are only on TV or bet on your favorite team each week if you are truly serious about making money. About Walt "The Fox" Kramer: Walt Kramer is a seasoned pro in the sports handicapping world. He has been servicing hundreds of loyal players for many years from his home in Henderson, NV. Walt is affectionately called "The Fox" by piers and customers for his his relentless work looking up information and uncovering important stats prior to making his selections. His keen eye for these stats have allowed Walt to become a full time gambler/sports handicapper. Walt prefers to be called a gambler since he plays all his own action but knows his real niche is helping the amateur player make money against the book. He realizes that many people gamble for fun but he takes his picks and job as a handicapper very serious. He feels his 60%+ winning percentage demonstrates this ongoing commitment.
Sports handicappers listed by foxandhoundsports.com
| Name | Profitable Sport(s) | 30 Day | Season |
| --- | --- | --- | --- |
| Don Hagen "The Hound" | | 89-57 (61%), +$12,975 | 494-334 (60%), +$67,875 |
| Walt Kramer "The Fox" | | 91-63 (59%), +$10,970 | 485-343 (59%), +$55,960 |
| F&H Power Play | | 66-41 (62%), +$10,445 | 331-211 (61%), +$52,785 |