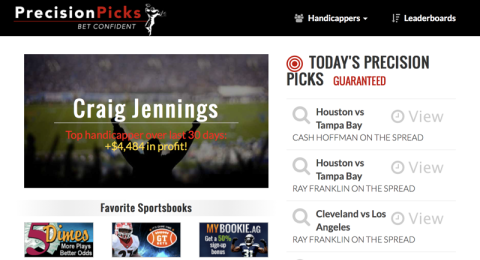 Russell Davis verified since 12/3/2008
Russell Davis is a Pittsburgh native and spent most of his youth playing pick up games in the alleys between steel mills. Growing up watching the "Steel Curtain" defense of the Pittsburgh Steelers is where Russell's love for sports developed. Russell relies on the fundamentals of sports handicapping; however, he has a detailed database with every sports statistic imaginable. Russell will never release a pick without thorough dissection of each team playing and eliminates any pre-conceived notions going into each game. Russell's hard work and determination to become a top handicapper has led to many successful years in the business and a thriving career now working with Ray Franklin. Our experienced sports handicappers bring you the strongest plays of the day and provide consistent sports winners: NFL Picks, College Football Picks, NBA Picks, College Basketball Picks and Baseball Picks. Unlike casino style gaming odds, there are certain uncontrollable factors in sports betting, which can be taken advantage of if you arm yourself with the right tools and adopt a consistent and disciplined betting style. The PrecisionPicks.com methodology is based on this theory, and consistently provides the highest percentage plays.
Sport
Yesterday
7 Day
30 Day
Season
All
1-0 (100%), +$500
8-4 (67%), +$2,010
66-39 (63%), +$12,510
593-414 (59%), +$71,120
MLB
1-0 (100%), +$500
8-4 (67%), +$2,010
66-39 (63%), +$12,510
181-119 (60%), +$27,335
NCAAF
71-56 (56%), +$4,675
NBA
147-139 (51%), -$2,865
NCAAB
194-100 (66%), +$41,975
You might also like to check out other handicappers from Precision Picks Conor Brookes, Lyle Orten, or Ron Duffy.