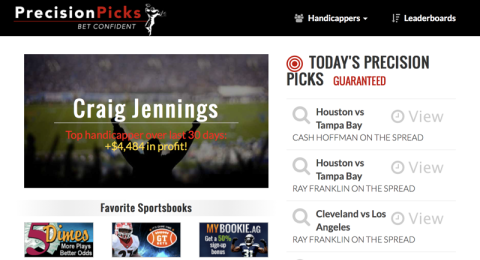 Ray Franklin verified since 12/3/2008
Team up with Ray Franklin and his highly motivated crew this season and experience a whole new way of sports wagering. With over a decade of setting the standard in the sports prognostication industry, Ray Franklin and his team know and understand sports, but more importantly know and understand wagering on sports. Let Ray and his team of sports professionals start working for you today. Bet smart everyday and bet with precision. Our experienced sports handicappers bring you the strongest plays of the day and provide consistent sports winners: NFL Picks, College Football Picks, NBA Picks, College Basketball Picks and Baseball Picks. Unlike casino style gaming odds, there are certain uncontrollable factors in sports betting, which can be taken advantage of if you arm yourself with the right tools and adopt a consistent and disciplined betting style. The PrecisionPicks.com methodology is based on this theory, and consistently provides the highest percentage plays.
| Sport | Date | Game | Line | Outcome | Money |
| --- | --- | --- | --- | --- | --- |
You might also like to check out other handicappers from Precision Picks Billy "All In" Depaulo, Ron Duffy, or Ryan Stroud.