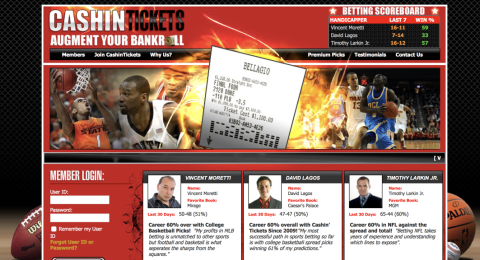 Community Reviews
Post Review
Read Reviews (0)
There are no complaints / negative reviews for Cashin' Tickets.
Cashin' Tickets Background / Wiki
Our People, Our Value, and Our Objective. CashinTickets.com does not follow trends, we set them! Our maxim holds true to our business. At CashinTickets.com we believe our job reflects our attitude and our results reflect our commitment to providing clients with guaranteed sports picks. Our People: Cashin' Tickets has assembled a cast of three expert sports advisors that were hand selected to lead our service. Each expert represents honor and integrity providing members with expert sports advice that will augment your bankroll! Our Sports Advisors are backed by experienced and educated customer support agents. Our support staff assists our Advisors and will know their move before they make it, enabling our members to stay informed and ahead of the Vegas odds. Our Value: We take pride in the extensive research and analysis our staff conducts and our disciplined approach to sports investing gives our members value-added advice. We are confident in our ability to lower your investment risk and maximize your potential to profit against sportsbooks. Our Objective: Our Expert Sports Advisors have a dedicated work ethic and are equipped with limitless amounts of sports information. Cashin' Tickets will provide superior sports betting advice from an industry leader Winning Sports Picks. At CashinTickets.com you can feel secure that your investment is in good hands. We approach each day with an opportunity to turn a profit and help our members retain the edge over oddsmakers.
Sports handicappers listed by cashintickets.com
| Name | Profitable Sport(s) | 30 Day | Season |
| --- | --- | --- | --- |
| Timothy Larkin Jr. | | 101-76 (57%), +$8,710 | 556-400 (58%), +$60,710 |
| David Lagos | | 93-70 (57%), +$8,055 | 637-445 (59%), +$75,600 |
| Vincent Moretti | | 93-75 (55%), +$5,360 | 667-415 (62%), +$113,220 |