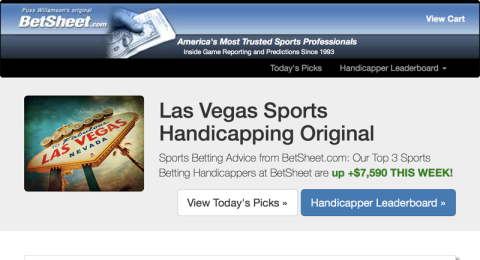 Community Reviews
Post Review
Read Reviews (0)
There are no complaints / negative reviews for BetSheet.
BetSheet Background / Wiki
BetSheet.com was founded by industry leading sports handicapper, Gerald "Puss" Williamson. Puss was an original sports consultant and has services at the public level since the early 1980's. As a private member of Betsheet.com, you will find yourself among a community of very serious and successful investors with access to information that is not available to the public. Our sports betting picks are documented and proven to give you the slight edge you need to beat the vegas odds. Puss Williamson was ahead of the times and was known for using innovative techniques and stat tracking systems that were not common in the 80's. Our goal is to offer superior information from a wide array of sports betting picks which allow our members to increase their profits by limiting their exposure to risk. Sports investing involves a methodical and detailed approach towards long term gains and our team of sports experts are here to help you achieve your goals. To make vital information stand out you must first adopt the right tools and mindset. BetSheet has embraced technology which increases our efficiency on many fronts. The modern day sports handicappers and investors all have access to the statistical data and trends but this doesn't give you an edge unless you understand the data you are digesting. It can be the small details that most sports handicappers over look that provide the edge in our sports betting picks. A matchup is about the entire picture and not just a single trend. When you understand how odds are manufactured then you can understand how Las Vegas expects the public to react. Our ability to decipher the big picture is the value we provide to our members.
Sports handicappers listed by betsheet.com
| Name | Profitable Sport(s) | 30 Day | Season |
| --- | --- | --- | --- |
| Brendon Katsaros | | 111-59 (65%), +$22,930 | 609-420 (59%), +$71,500 |
| Dennis Mathews | | 119-67 (64%), +$22,690 | 553-415 (57%), +$52,650 |
| CB Ferris | | 115-67 (63%), +$20,400 | 574-374 (61%), +$78,625 |
| Johnny Pham | | 110-69 (61%), +$16,915 | 609-398 (60%), +$90,260 |
| Puss Williamson | | 102-78 (57%), +$7,900 | 580-434 (57%), +$54,120 |
| David Price | | 103-80 (56%), +$7,555 | 562-459 (55%), +$25,505 |