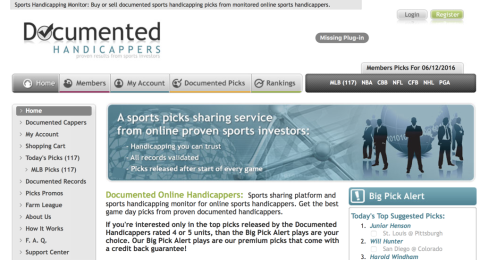 Jacob Smith verified since 8/21/2014
Jacob Smith is an NFL football specialist that got his start betting football through a fantasy football league he started with his friends. Fast forward 10 years and Jacob has successfully completed the past three NFL seasons at a win rate of 59%, 61% and 60% respectfully. Jacob is a full believer in fading the public opinion when the opportunity presents itself. Like some of the best professional handicappers, Jacob understands the public's love interest with certain teams inflates their odds which will provide an opportunity to win big. Jacob expects to provide members with consistent NFL winners this season.
Sport
Yesterday
7 Day
30 Day
Season
All
0-3 (0%), -$1,600
15-7 (68%), +$3,350
289-206 (58%), +$33,620
NFL
79-60 (57%), +$6,945
NHL
0-3 (0%), -$1,600
15-7 (68%), +$3,350
210-146 (59%), +$26,675
You might also like to check out other handicappers from Documented Handicappers Curtis Sydney, Scooter Lowell, or Ted Stone.