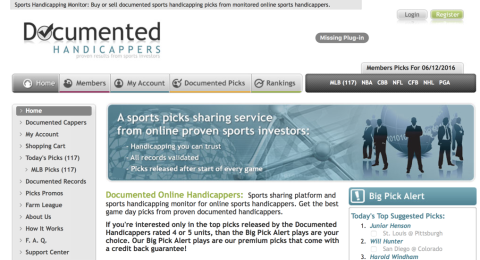 The Swami verified since 7/23/2008
As a recently retired chiropractor, I have turned to sports handicapping for both hobby and profit. I have been a life long Miami Dolphins fan growing up in Florida. I have always enjoyed wagering on sports and since my recent retirement I have been able to devote more time and energy into this passion. I have learned to channel my experience and love of sports into a full time profitable past-time. From my experience I have developed and understanding and discipline needed to make a comfortable living through sports handicapping. I wish to bring my success and help others gain big through my services.
Sport
Yesterday
7 Day
30 Day
Season
All
1-3 (25%), -$1,000
17-17 (50%), -$135
76-46 (62%), +$14,030
655-507 (56%), +$51,650
MLB
1-3 (25%), -$1,000
17-17 (50%), -$135
76-46 (62%), +$14,030
219-150 (59%), +$29,850
NCAAF
101-91 (53%), +$525
NBA
335-266 (56%), +$21,275
You might also like to check out other handicappers from Documented Handicappers Jimmy Eastman, Nate McMartin, or Richie Law.