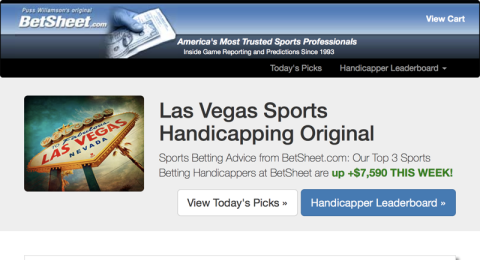 Puss Williamson verified since 12/6/2007
Before the Las Vegas Sports Consultants, Puss Williamson was one of the original sports authorities to work with many of the major Las Vegas Sportsbooks in the linesmaking capacity. With a blend of innovative stats tracking and personal service, Puss Williamson was reknown for early line calls and unexpected line shifts. Seeing an end to his free lance services upon the upstart of LVSC in 1983, Puss Williamson regretfully conceded his services at the public level. Puss moved to Ft. Lauderdale, Fl. in 1989 where he dabbled in commercial real estate and venture capitalism, until returning to sports consulting in 1993 during the on-line startup frenzy. As one of the world's most respected free lance authorities in gaming resources, Puss Williamsom has spent most of the 90's working for half a dozen start ups in sportsbook consultation and security. Indeed, the Las Vegas Sporting News recognized Puss in its December 17, 1994 issue, and wrote that: "Gerald [Puss] Williamson, efforts to improve functionality of off-shore based sportsbooks, has cut development time by half." The popularity of Puss Williamson working in the private handicapping sector spawned Betsheet.com. As a private member of Puss Williamson's Betsheet, you will find yourself among a community of very serious and successful sports investors.
Sport
Yesterday
7 Day
30 Day
Season
All
2-1 (67%), +$475
8-5 (62%), +$1,525
41-24 (63%), +$7,825
459-379 (55%), +$21,725
MLB
1-1 (50%), -$25
5-3 (63%), +$1,150
19-7 (73%), +$6,250
19-7 (73%), +$6,250
NFL
78-59 (57%), +$6,675
NCAAF
97-69 (58%), +$10,600
NBA
1-0 (100%), +$500
3-2 (60%), +$375
15-15 (50%), -$850
132-133 (50%), -$7,250
NCAAB
7-2 (78%), +$2,425
133-111 (55%), +$5,450
You might also like to check out other handicappers from BetSheet Brendon Katsaros, David Price, or Dennis Mathews.