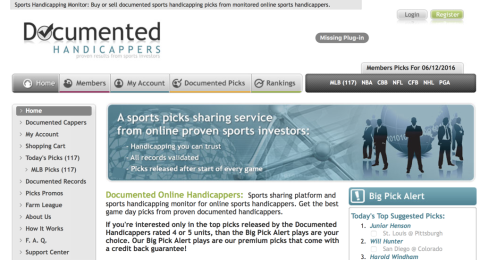 Denny Helton verified since 4/1/2013
Denny Helton has created buzz at Documented Handicappers by successfully posting profitable seasons in MLB and NFL the past two years while being monitored by our staff. Denny had offers from other online handicapping forums as a featured sports handicapper but chose to begin an apprenticeship with Documented Handicappers. Denny's skills will be utilized in Major League Baseball and NFL football. Over the past two MLB and NFL seasons, Denny posted a 60% MLB record and 61% NFL record. Denny has joined our elite sports handicapping staff and we look forward to continued success in the upcoming MLB and NFL seasons.
Sport
Yesterday
7 Day
30 Day
Season
All
2-0 (100%), +$1,000
7-4 (64%), +$1,125
18-17 (51%), -$145
119-85 (58%), +$13,170
MLB
2-0 (100%), +$1,000
7-4 (64%), +$1,125
18-17 (51%), -$145
18-17 (51%), -$145
NFL
101-68 (60%), +$13,315
You might also like to check out other handicappers from Documented Handicappers Harold Windham, Jacob Smith, or RC Blevins.